The OMRI Listed® Seal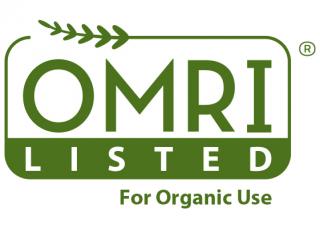 The OMRI Listed® seal is a powerful promotional tool. To help keep the value and recognition of the seal high, we ask that you follow the guidelines below and the licensing policy (You may need Adobe® Reader® to view this PDF) when using the Seal on your packaging and promotional materials:
Please Do:
Please Don't:
Download the OMRI Listed® Seal
You must only use the OMRI Listed seal in association with products currently on the OMRI Products List©.
By downloading the seal (or using it), you agree to follow the OMRI Listed Seal licensing policy (You may need Adobe® Reader® to view this PDF). Please be sure that you have read and understood this policy prior to use.
To download, click on the appropriate link and save the file to your computer. To receive seal files in another format, please contact info@omri.org.

These images feature additional wording in Spanish:
The OMRI Listed® seal is a registered trademark of OMRI. OMRI provides suppliers of OMRI Listed products with the Seal in electronic form. Variation in or changes to the Seal are in violation of this policy. Manufacturers and distributors of OMRI Listed products must ensure that the Seal is used only in direct connection with specific products that are currently OMRI Listed. Displaying the Seal in a way that could reasonably be thought to apply to a product that is not currently OMRI Listed is in violation of OMRI policy and U.S. trademark law. The product name, company name, and company contact information given on any product labels or in any advertising or promotional materials must match that which appears on the current OMRI Products List. Private labels or re-packages of OMRI Listed products with different names are required to apply separately under OMRI's re-packaged products policy.
Would you like to download the OMRI Listed® Seal?
If you are a manufacturer of an OMRI Listed® product, please log in to the website using your email address and password. The login box is located in the upper right corner of this page. Please enter the e-mail address that you have on file with OMRI for the company you are inquiring about. If you do not know your password, leave the password box blank and click GO. You will be prompted to request a new password. If you have any questions, please contact OMRI at (541)343-7600 ext. 105 or apply (at) omri (dot) org.