History of OMRI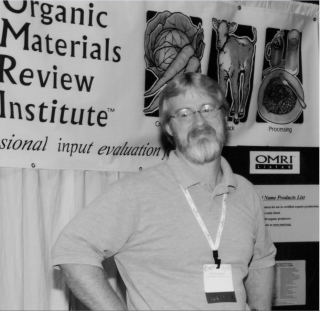 Founded in 1997, the Organic Materials Review Institute (OMRI) is a 501(c)(3) nonprofit organization providing organic certifiers, growers, manufacturers, and suppliers an independent review of products intended for use in certified organic production, handling, and processing. OMRI reviews input products to determine compliance with the USDA National Organic standards, the Canada Organic Regime (COR) standards and/or Mexican Organic Products Law (LPO). Inputs include products such as fertilizers and pest control products for crop production, livestock feed ingredients and health care products, processing aids and sanitizers, and other materials intended for use in organic production. Compliant products are OMRI Listed® and appear on the OMRI Products Lists©. OMRI also provides subscribers and certifiers guidance and training on the acceptability of material inputs in general under organic standards.
Mission Statement
OMRI's mission is to support the growth and trust of the global organic community through expert, independent and transparent verification of input materials, and through education and technical assistance.
History
OMRI was founded in 1997 to evaluate materials for use in organic agriculture. At that time, there were more than 40 certifiers who were performing organic certification using various state and private standards.
Following passage of the Organic Foods Production Act in 1990, inputs were initially evaluated under a program developed by California Certified Organic Farmers (CCOF), in cooperation with Oregon Tilth Certified Organic (OTCO), the Organic Trade Association (OTA) and the Organic Crop Improvement Association (OCIA). These groups viewed the development of a single resource specializing in input review and materials evaluation as an important step towards implementing a uniform standard. The Northeast Organic Farmers Association of New Jersey and Florida Organic Growers were among the first certifiers to become subscribers to OMRI.
OMRI began operation in June 1997 with financial backing from CCOF, OTCO, OCIA, OTA, the Organic Farming Research Foundation (OFRF), the Association for Regional Agriculture Building Local Economy, Newman's Own Organics, Whole Foods Market, Smuckers Quality Beverages, and the Humane Society of the United States, as well as many smaller donors.
OMRI used recommendations from an Advisory Council of subject matter experts in organic farming, industry, academia, and the public arena to publish the first OMRI Generic Materials List© in 1998. Once the standards and policies had been established, OMRI began accepting applications to review products. OMRI reviewed the first OMRI Listed® products, and the first OMRI Products List© (formerly known as the OMRI Brand Name Products List) was published in March 1998.
The National Organic Standards (NOS) were published in 2000 in the Federal Register at 7 CFR part 205 and were implemented in October 2002. Today, the NOS and the COR standards for Canada and the LPO standards for Mexico form the basis of OMRI's input reviews.
OMRI produced Technical Advisory Panel (TAP) reports for the National Organic Standards Board (NOSB) from 1999 until 2002. In 2008, OMRI received ISO 65 accreditation from the USDA, and the National Organic Program (NOP) officially permitted certifiers to contract with OMRI for material review. In 2010 the OMRI Products List reached 2,000 products listed for use in organic production, handling and processing. In 2012, the NOP accepted OMRI's blanket proposal to become one of three organizations that are qualified to produce Technical Reports (formerly TAP reports) for the NOSB. OMRI staff complete the research and writing, and members of OMRI's Advisory Council provide peer review and technical advice for the reports. OMRI launched the OMRI Canada program in 2013 to provide review of products for use under Canadian Organic Standards, and in 2020 launched OMRI Mexico program, reviewing products to the Mexican Organic Products Law.
The current staff of OMRI consists of management, program staff, administrative staff, and technical support. OMRI is governed by a Board of Directors and supported by an Advisory Council, Review Panels (for crops, livestock, processing, and COR and LPO products), and contractors.
The OMRI Board of Directors represents a wide variety of stakeholders from the organic industry, including certifiers, suppliers, farmers, processors, and consumer and public interest group representatives. The Organic Trade Association may nominate an individual to serve on the OMRI board, and a representative of the National Organic Program may serve as an ex officio member.