Benefits of OMRI
Access Growing Markets
Within days of your product becoming OMRI Listed®, potential clients and their certifiers can find your listing on our website. Organic professionals frequently reference the OMRI Products List©, the OMRI Canada Products List© or the OMRI Mexico Products List© in their work advising growers. Likewise, ecologically-minded home gardeners will see your product alongside other OMRI Listed products in the rapidly expanding organic gardening sections of major retailers.
The OMRI Products Lists are available in print and as PDF downloads on our website, and all OMRI Listed products are publicly available through our mobile-compatible search. Listed suppliers receive certificates annually for each product on our lists and are able to use the OMRI seals in association with listed products.
OMRI Seal Use Policy
The OMRI seal provides instant recognition that a product has passed OMRI's technical review and is compliant with organic standards. Companies with OMRI Listed products automatically receive access to download the Seal through the Advanced Features menu for logged-in users. Contact OMRI for more information about downloading or using the OMRI seal.
---
OMRI Listed Seal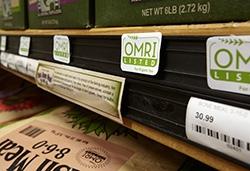 The OMRI Listed seal is a registered trademark of OMRI. OMRI provides the Seal in electronic form to suppliers of OMRI Listed products. Manufacturers and distributors of OMRI Listed products must ensure that the Seal is used only in direct connection with specific products that are currently on the OMRI Products Lists. Displaying the Seal in a way that could reasonably be thought to apply to a product that is not currently OMRI Listed is in violation of OMRI policy and U.S. trademark law.
---
OMRI Listed Products Available Logo
The OMRI Listed Products Available logo may be used by companies that produce, supply, or distribute products that are currently on the OMRI Products Lists. The Products Available logo may be used on company websites, brochures, catalogs, and other media that is not directly related to an OMRI Listed product. It is not a substitute for the OMRI Listed seal.
If you are a supplier of an OMRI Listed product, please log in to download the OMRI Listed Products Available logo. If you are a distributor of an OMRI Listed product and would like access to the Products Available logo, please contact us by email or at (541) 343-7600 ext. 101, or contact your product supplier.