Calendar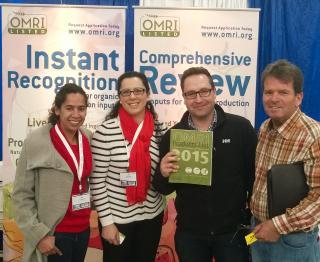 Every year, OMRI partners with dozens of organizations to deliver presentations and training to conference attendees and local communities. Check the calendar below to learn more about where OMRI will be this year, and stop by our booth or contact OMRI to schedule a meeting.
Organizations are encouraged to contact OMRI to learn more about OMRI training for your upcoming event or staff development.
Check back soon for updates! Event details are subject to change due to the evolving COVID-19 pandemic.
OMRI Tradeshow and Training Schedule
Event
Time and Place
More Information
Additional Details

Expo AgroBaja

Oct 14-16, 2021

Rescheduled: March 3-5, 2022, Mexicali, Baja California, Mexico

Bilingual Technical Coordinator Aura Larson and Bilingual Product Review Coordinator Jacky Castañeda will participate.

ACRES Eco-Ag Conference

Dec 6-9, 2021, Cincinnati, OH

Product Review Coordinator Jackie Leizerman will participate.

OTA's Organic Week

Jan 31-Feb 2, 2022, Washington, DC

Executive Director/CEO Peggy Miars will participate.

World Ag Expo

Feb 8-10, 2022, Tulare, CA

Bilingual Content Coordinator Cesar Cartagena, Bilingual Review Program Specialist Charlotte Hamilton and Product Review Coordinator Kat Rola will participate.

BIOFACH

Feb 15-18, 2022, Nuremberg, Germany

Executive Director/CEO Peggy Miars will participate.

MOSES Organic Farming Conference

Feb 24-26, 2022, La Crosse, WI

Review Program Administrative Supervisor Kate McKay will participate.

Natural Products Expo West

March 8-12, 2022, Anaheim, CA

Executive Director/CEO Peggy Miars will participate.

NOSB Spring Meeting

Apr 26-28, 2022, Crystal City, VA

Executive Director/CEO Peggy Miars and Technical Director Doug Currier will participate.