Calendar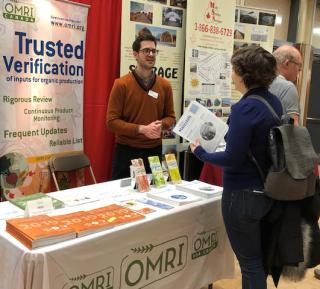 Every year, OMRI partners with dozens of organizations to deliver presentations and training to conference attendees and local communities. Check the calendar below to learn more about where OMRI will be this year, and stop by our booth or contact OMRI to schedule a meeting.
Organizations are encouraged to contact OMRI to learn more about OMRI training for your upcoming event or staff development.
Check back soon for updates!
OMRI Tradeshow and Training Schedule
| Event | Time and Place | More Information | Additional Details |
| --- | --- | --- | --- |
| Farwest | August 23-25, 2023, Portland, OR | | Digital Marketing Coordinator Jacob Mogler and Marketing Manager Roger Plant will attend. |
| The Fertilizer Institute World Fertilizer Conference | October 2-3, 2023, Washington, DC | | Executive Director/CEO Orsi Dézsi will attend. |
| NOSB Fall Meeting | October 24-26, 2023, Providence, RI | | Executive Director/CEO Orsi Dézsi and Technical Director Doug Currier will attend. |
| Organic Grower Summit | November 29-30, 2023, Monterey, CA | | Technical Director Doug Currier will attend. |
| ACRES Eco-Ag Conference and Tradeshow | December 4-7, 2023, Covington, KY | | Senior Product Review Coordinator Jackie Leizerman will particpate. |
| Guelph Organic Conference | January 24-27, 2024, Guelph, Ontario, Canada | | Executive Director/CEO Orsi Dézsi will attend. |
| GCSAA (Golf Course Superintendents Association of America) Conference and Tradeshow | January 29-February 1, 2024, Phoenix, AZ | | Marketing Manager Roger Plant will attend. |
| USCC Compost Conference | February 6-9, 2024, Daytona Beach, FL | | Senior Bilingual Content Coordinator Cesar Cartagena will attend. |
| World Ag Expo | February 13-15, 2024, Tulare, CA | | OMRI will attend. |
| Marbleseed Organic Farming Conference | February 22-24, 2024, La Crosse, WI | | Review Program Administrative Supervisor Kate McKay will attend. |
| AgroBaja | March 7-9, 2024, Baja California, Mexicali, Mexico | | Senior Bilingual Content Coordinator Cesar Cartagena will attend. |