OMRI Canada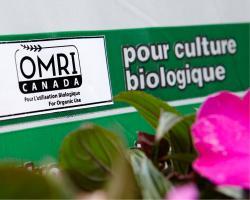 OMRI now offers product review aligned with Canada Organic Regime (COR) standards, in addition to the existing review program under U.S. National Organic Program (NOP) standards. Allowed products are listed in the OMRI Canada Products List©, which is available for free download and now also included in our improved search feature. The first step toward listing a product on either the OMRI Products List© or the OMRI Canada Products List is to order an OMRI Application Kit. The Kit includes all necessary application materials in order to apply for any type of OMRI review.
How It Works
Suppliers of products that fall within OMRI's scope are eligible to apply for listing on the OMRI Canada Products List. Since the United States and Canada have separate organic standards, OMRI's application materials address the specifics of each standard and the intended use of the final product.
Products that OMRI has reviewed and determined are allowed in organic production according to Canadian standards will be included on a public OMRI Canada Products List. OMRI also offers seals for OMRI Canada products and Canada/USA seals for products included on both lists.
Learn More
Potential applicants are encouraged to review our Frequently Asked Questions for the OMRI Canada Review Program, learn more about OMRI's review fees, or the information requested during the application process.