OMRI for Farmers and Organic Professionals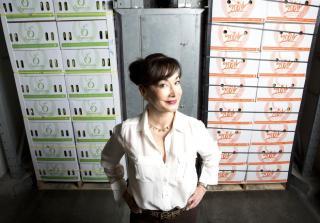 As the co-founder and president of Organics Unlimited, a lead importer of quality bananas and tropical fruits, Mayra Velasquez de Leon needs to keep a close eye on the organic standards. One of her largest priorities is ensuring that the producers she works with meet the organic certification requirements at all stages.
The business of bananas is deeply rooted in the Velasquez de Leon family history. For over 30 years they have grown organic bananas in the farms of Mexico. Velasquez de Leon's father was also the first commercial organic banana grower in the world. Before founding Organics Unlimited, Velasquez de Leon worked at her family's company, Mexican American Fruit Company, for over 15 years. Today, she oversees all Organics Unlimited company operations in Mexico and the U.S. The company's mission is to provide quality organic fruit in a socially responsible way.
"I am always checking the OMRI Products List to make sure anything producers use is allowed by OMRI," says Velasquez de Leon. "If it's not OMRI Listed, it's too big a risk."
Professionals like Mayra count on information that's current, easily accessible and 100% accurate. That's why she subscribes to receive OMRI updates and support. Learn more about OMRI's subscription service and technical support for farmers and organic professional.

Search
One search with complete information about materials and products for organic use.

Subscribe
Get essential technical support with your OMRI subscription - a cost effective tool.

Download
OMRI Products List© free downloads are updated twice a month and always available for web users.

Community
Get involved and stay updated about OMRI's work in the organic community.

Calendar
Let's meet! Check OMRI's calendar and connect with us at the next local tradeshow or conference.

OMRI Canada
OMRI is helping to grow the organic industry in Canada with the OMRI Canada Products List©.