About OMRI Listed Products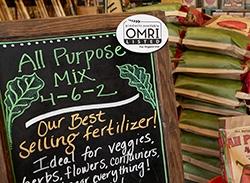 The OMRI Listed® Seal assures the suitability of products for certified organic production, handling, and processing under the following conditions:
For certified organic farmers, the product must be included in the operator's approved organic system (farm) plan.
Product use must be in accordance with any restrictions described in the OMRI Products List under the product's category.
Also, OMRI recommends that users of OMRI Listed® products follow these suggestions:
Many product or manufacturer names are similar. Check to make sure that both product and manufacturer names on the label match the listing in the OMRI Products List

©

.
Apply the product according to instructions or purpose on the label, and in accordance with any restrictions indicated in the OMRI Products List.
Guard against the possibility of environmental contamination and negative ecological impacts.
Handle products with care for the safety of the workers involved.
Contact the manufacturer about a product's efficacy, health and environmental effects.
El sello OMRI Listed® asegura que el producto puede ser usado en operaciones agrícolas, ganaderas y de procesamiento que estén certificadas como orgánicas, bajo las siguientes condiciones:
Para operaciones orgánicas certificadas el producto debe incluirse en el Plan de Sistema Orgánico de la operación.
El producto debe ser utilizado de acuerdo con las restricciones descritas en la Lista de Productos OMRI© bajo la Categoría a la cual pertenece el producto.
Adicionalmente, OMRI recomienda a los usuarios de productos OMRI Listed® lo siguiente:
Muchos de los productos OMRI Listed al igual que los nombres de los fabricantes tienen nombres similares. Asegúrese de que el nombre que aparece en la etiqueta, tanto del producto como de la empresa que lo fabrica, coincida con la información que aparece en la Lista de Productos OMRI©.
Utilice el producto según las instrucciones en la etiqueta y de acuerdo a las restricciones indicadas en la Lista de Productos OMRI©.
Protéjase contra la posibilidad de contaminación ambiental e impactos ecológicos negativos.
Utilice los productos teniendo en cuenta la seguridad de su personal.
Contacte al fabricante del producto si tiene preguntas acerca de la eficacia del producto o acerca de sus efectos a la salud y al media ambiente.