Application Kit
For First-time Applicants Only
The first step of the OMRI application process is to purchase an Application Kit and set up your company account. Each company only needs to do this once.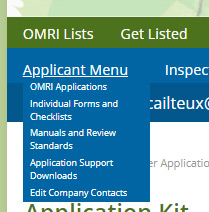 Once you have purchased an Application Kit, you will be given a login for the OMRI website, which will allow you to access OMRI's advanced Applicant Menu, including:
Unlimited downloadable OMRI application materials
Downloads of the OMRI Policy Manual©, OMRI Standards Manuals and other reference documents
Access to a personalized Company Page, where you can edit the list of authorized contacts and public contact information for your company. Each authorized contact will receive a login.
Ordering a $40 Application Kit gives you access to application materials online for two years (paper copies of manuals can be requested for an additional shipping fee). Once a complete application is submitted to OMRI for review, authorized contacts for your company will have permanent access to these materials.
To get started, follow these steps:
Step 1: Click below to complete the Application Kit order form. You will be asked to provide information about:
The company name;
Public company contact information; and
Contact information for individuals that you would like to authorize to discuss confidential information and submit information to OMRI.
Step 2: Submit $40 payment for the Application Kit (additional shipping fees apply for hardcopy requests).
Step 3: OMRI will send you an email with instructions on how to log in and download the application materials from our website. You will also be given a link to your Company Page where you can edit contact information for your company.
Do you already have a company account?
Log in above to access application materials
New company or
need to purchase an Application Kit?
Before submitting your Application Kit order form, please do a quick search for each of your ingredients in the OMRI generic materials search. This search tool can help you determine whether your product may be eligible for OMRI listing. If you cannot find your materials, or if you have other questions regarding OMRI applications, you may contact the application support team at 541-343-7600 ext. 105 or email to apply@omri.org.