OMRI Canada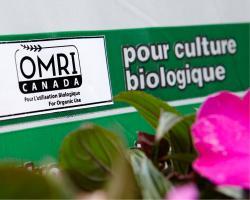 OMRI is now offering product review aligned with Canada Organic Regime (COR) standards, in addition to the existing Review Program under U.S. National Organic Program (NOP) standards. Allowed products are listed in the OMRI Canada Products List©, which is always available for free download. The first step toward listing a product on either the OMRI Products List or the OMRI Canada Products List is to order an OMRI Application Kit. The Kit includes all necessary application materials in order to apply for any type of OMRI review.
How It Works
Suppliers of products that fall within OMRI's scope are eligible to apply for listing on the OMRI Canada Products List.
Products that OMRI has reviewed and determined are allowed in organic production according to Canadian standards will be included on a public OMRI Canada Products List©. These products will have the option of using either the new OMRI Canada seal or the USA / Canada seal.
OMRI has recruited a team of knowledgeable experts with experience evaluating inputs to COR standards, to make final product listing decisions. OMRI is pleased to welcome Rochelle Eisen, Garry Lean, Kelly Monaghan and Jean Duval as OMRI Canada Review Panel members. Read more and review their bios here.
Learn More
Potential applicants are encouraged to review the Frequently Asked Questions page for the OMRI Canada Review Program.
New! OMRI Canada Products List

The OMRI Canada Products List© is a list of all products that OMRI has determined are either Allowed or Allowed with Restrictions under the Canada Organic Regime standards. This list is only available as a PDF download, and the OMRI web search does not currently identify products that have been reviewed to Canadian standards.