OMRI Materials Review Newsletter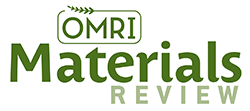 The OMRI Materials Review newsletter is brimming with the latest news on materials, standards, and actions of the National Organic Standards Board and National Organic Program. The link below will allow you to view a sample newsletter in your browser, or download it to your computer. The newsletter is stored here in PDF format.
OMRI Subscribers, Donors, and companies with OMRI Listed® products receive the newsletter in print or PDF format. Subscribers can log in to view the full OMRI Materials Review archive and current newsletter.