Advanced Search
Search
Using the new OMRI search
With OMRI's comprehensive interface you will search all OMRI data and website content from one search. By default, search results will include all content types available. You can click the checkboxes to deselect content and narrow the search. For example, this search will return all Press Releases and other Site Content that contain the word "certifier."

Features and Highlights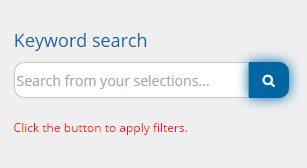 Users looking for OMRI Listed products have several advanced filters available. To open the advanced filters for products, click "open" in the "Advanced Filters" section. Notice that the other content types are turned off. These filters only apply to products and materials. To use the filters, deselect content that you do not wish to include and press the blue search button to apply filters. Please note that at this time, these class based filters are not available in mobile views of the site. You can alternatively search for terms such as NOP or COR to filter your results in this way.
The bottom of the page features a legend and a breakdown of your search results by content type. Click on a content type to narrow your search. The results below include 41 Frequently Asked Questions, and clicking on the bar will narrow your results to those 41 records.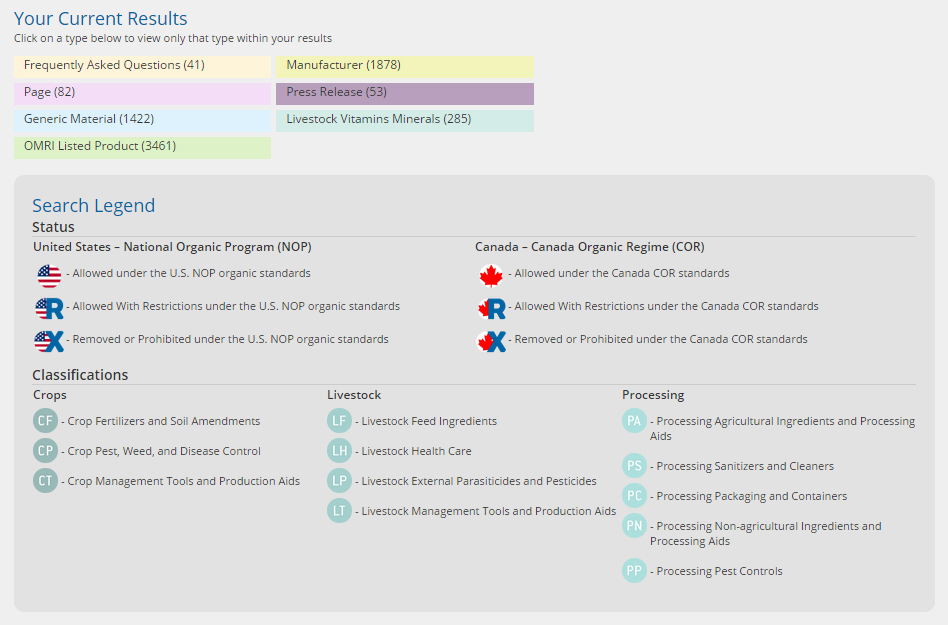 Product Information

A. Ruling Body: Either NOP for the United States National Organic Program standards or COR for the Canada Organic Regime standards. The OMRI Search currently includes information about products and materials used under these two ruling bodies.
B. Product Code: The product code is OMRI's internal method used to identify unique products. Three letters are used to identify the company, and four numbers identify each individual product. Note that the same product allowed under NOP and COR standards will have a separate code for each ruling body.
C. Restriction: This section provides critical information about product compliance. In order to meet organic standards, products must be used in a manner that is consistent with the product Classification and in keeping with the restriction indicated.
D. Expiration Date: OMRI Listed® products are renewed annually, and the expiration date indicates the end of the renewal cycle. If the product is not renewed before this date it will be removed from the list.
Within Your Current Search Results
Click on a type below to view only that type within your results
Guided search
Click a term to initiate a search.
Status

United States – National Organic Program (NOP)

- Allowed under the U.S. NOP organic standards

- Allowed With Restrictions under the U.S. NOP organic standards

- Prohibited or Removed under the U.S. NOP organic standards

Canada – Canada Organic Regime (COR)

- Allowed under the Canada COR standards

- Allowed With Restrictions under the Canada COR standards

- Prohibited or Removed under the Canada COR standards
Classifications

Crops

- Crop Fertilizers and Soil Amendments

- Crop Pest, Weed, and Disease Control

- Crop Management Tools and Production Aids

Livestock

- Livestock Feed Ingredients

- Livestock Health Care

- Livestock External Parasiticides and Pesticides

- Livestock Management Tools and Production Aids

Processing

- Processing Agricultural Ingredients and Processing Aids

- Processing Sanitizers and Cleaners

- Processing Packaging and Containers

- Processing Non-agricultural Ingredients and Processing Aids

- Processing Pest Controls