OMRI Introduces New Seal
(October 2, 2012) Robust, efficient, trusted – OMRI (the Organic Material Review Institute) has launched its new seal, with these anchoring principles shaping new directions for the organization and for material review.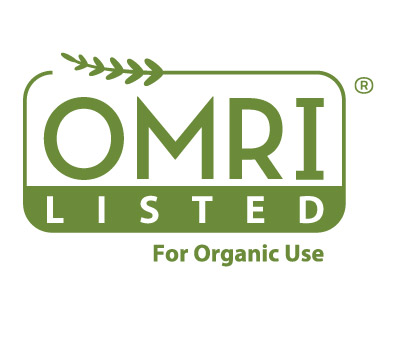 OMRI, the leading reviewer of input products for organic use, announced today that it is offering an updated seal to help usher in a new era for input review. The new OMRI seal features a refined look to attract consumers in new markets, and descriptive wording to help the public easily understand its significance.
According to OMRI Executive Director/CEO Peggy Miars, "The seal stayed the same for over 15 years, while OMRI and the organic industry both matured. It became clear that we needed a new graphic to reflect what has really become a very different organization. Today, OMRI is a more efficient organization that plays a greater role in research and technical issues to serve the entire organic community. More consumers, producers, processors, certifiers and regulators are looking to OMRI to support organic integrity, and the modern graphic shows that we're a new OMRI, ready to meet their needs."
The OMRI seal has long been a trusted mark among organic certifiers, retailers and consumers in the U.S. Now, OMRI is poised to become an equally trusted brand globally, with a Canada review program planned for early 2013. Streamlined procedures have helped to grow the OMRI Products List© to over 2500 products, while the organization continues to keep integrity at the heart of organics. New international services will utilize OMRI's robust quality system and established procedures to help create consistency in review of inputs worldwide.
"Consistency is key," continues Miars. "Our decisions are based on clear and consistent interpretation of the NOP regulations, carefully followed and recorded through the last 15 years of organics. We look forward to offering this stability, credibility and expertise to new markets around the world."
Founded in 1997, the Organic Materials Review Institute (OMRI) provides organic certifiers, growers, manufacturers, and suppliers an independent review of products intended for use in certified organic production, handling, and processing. OMRI is a 501(c)(3) nonprofit organization. When companies apply, OMRI reviews their products against the organic standards. Acceptable products are OMRI Listed® and appear on the OMRI Products List. OMRI also provides subscribers and certifiers guidance on the acceptability of various material inputs in general under organic standards.
Contact: Peggy Miars, OMRI Executive Director/CEO