OMRI Materials Review Newsletter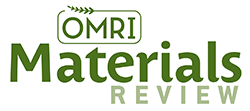 The OMRI Materials Review newsletter is brimming with the latest news on materials, standards, and actions of the National Organic Standards Board and National Organic Program. The link below will allow you to view a sample newsletter in your browser, or download it to your computer. The newsletter is stored here in PDF format.
Subscribers can log-in to view the full OMRI Materials Review archive and current newsletter.
Upcoming Website Maintenance
The OMRI Website may be unavailable Tuesday, September 2, between 8:00 PM and 11:00 PM Pacific Time (11:00 PM - 1:00 AM Eastern Time) due to website maintenance. We apologize for the inconvenience, and thank you for your patience.